PIXAR'S OUT:
Out's story concerns the struggles of a man named Greg, who is closeted from his loving parents. The depiction is tender, empathetic and honest…
PIXAR'S OUT:
Much of the action centers on attempts trying to distract Greg's mother (Bernadette Sullivan) from discovering a framed photograph of the couple hugging.
The film reaches a heartfelt climax when Greg's mother's reaction is revealed.
PIXAR'S OUT:
Quirky, funny, and gently eye-misting.
PIXAR'S OUT:
The new Pixar animated short film Out is a magnificent work of color and narrative. For many viewers this is the first time that an explicitly gay protagonist is presented in a Disney production…. The boisterous, helpful, and well-meaning Mom is voiced by Bernadette Sullivan.
CHARLES LUDLAM'S THE ARTIFICIAL JUNGLE:
… his funny, exuberantly, campy farce… with the compelling Bernadette Sullivan… The cast is outstanding.
CHARLES LUDLAM'S THE ARTIFICIAL JUNGLE:
His restless redhead wife, Roxanne… Sullivan plays the cuckolding wife like a cat clawing at the door of freedom.
CHARLES LUDLAM'S THE ARTIFICIAL JUNGLE:
Sullivan is a sloe-eyes delight. She pinches up her long face and shoots looks that kill- at first aimlessly, at anyone in hearing range- but then, once she falls hard and stakes turn murderous, she directs her heavy lidded laser beams with a shocking focus.
Her gravel-voiced timing is just what Ludlam would have enjoyed- it's ridiculous, without actually being impossible."
MUCH ADO ABOUT NOTHING:
Special mention is also due to the inventive flirtatious clowning between malaprop-spouting constable Dogberry… and his subordinate, Verges (Bernadette Sullivan, whose marvelous comic timing makes the role anything but secondary).
OTHELLO:
Director Melissa Chalsma has elicited smart, sharp, funny interpretations from her cast, notably… and Bernadette Sullivan (Emilia)… a woman choosing truth over matrimonial obedience.
TWELFTH NIGHT:
… the prankishly scheming servant woman Maria (humorously earthy Bernadette Sullivan).
THE TRAGICAL HISTORY OF DOCTOR FAUSTUS:
The most inventive twist is to cast a woman as Mephistopheles, the agent sent by Lucifer to tempt Faustus and secure his soul. Bernadette Sullivan's exquisitely sculpted face is given porcelain pallor, with deeply colored accents at her eyes and lips. She's a fashion-model dream…
THE TRAGICAL HISTORY OF DOCTOR FAUSTUS:
Faustus sold his soul to Mephistopheles (Bernadette Sullivan, with a pleasing blend of world weariness and fury)…
ON THE ROAD WITH BERNADETTE:
Bernadette Sullivan doesn't do Republicans. I mention this because it stunned me at first to hear that a working actor would turn down jobs in a market where work is evaporating and competition is fierce. Read full article >>
FIGHTING WORDS:
Uniformly mesmerizing, the actors give performances that are works of art. Sullivan is a simmering Modigliani about to burst off the canvas…
HAMLET:
…Hamlet's colleagues are impressively spontaneous… dovetails with Bernadette Sullivan's sympathetic Gertrude.
HOME or THE QUEST FOR THE LOST TABLET OF UR (ZOO DISTRICT):
… a ferocious standout performance by Bernadette Sullivan…
HOME or THE QUEST FOR THE LOST TABLET OF UR (ZOO DISTRICT):
Sullivan's tour-de-force star turn is particularly diverting: she invests her Dora with a confused pathos and her Gertrude with a larger-than- life compassionate quality so that you will hardly believe the same actor is playing both parts.
SCENES FROM AN EXECUTION:
Winner, LA Weekly Theater Award: Leading Female Performance.

Sullivan is compelling as the sprawling, brawling, half-mad artist… hormonally supercharged, a sexy and fascinating clash between well-matched adversaries.
SCENES FROM AN EXECUTION:
Winner, LA Weekly Theater Award: Leading Female Performance.
Bernadette Sullivan leads the accomplished ensemble in her zesty portrayal of Galactia,a free thinking artist…. Sullivan's fiery interpretation as the lusty, rebellious Galactia…
TOP GIRLS:
A wonderful performance in the lead by Bernadette Sullivan…
TOP GIRLS:
A stunning final scene between Brett Paesel and Bernadette Sullivan as they tear each other into emotional shreds despite their obvious love for each other…two powerhouses…Their work is so specific and powerful that it's worth the wait. I hope these women won't pass unseen by the public, because they give two of the strongest performances I've seen on Los Angeles stages.
TOP GIRLS:
Played with solid mean-spiritedness by Bernadette Sullivan…
TOP GIRLS:
Sullivan is an even tougher spirit at Joyce…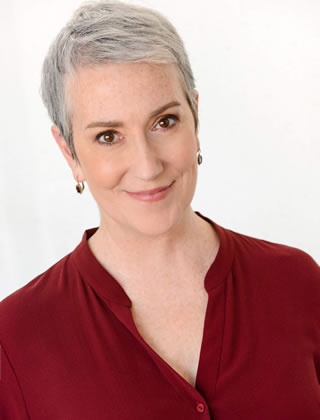 Award winning actress, Bernadette Sullivan, has been charming and moving audiences through unforgettable voiceover, stage, and screen performances for decades.
For years she has also performed with the ever popular Independent Shakespeare company in Griffith Park, Los Angeles, and her warm and endearing voice can most recently be heard on Pixar's SparkShort, OUT.
Bernadette's undeniably authentic and uncommonly skilled acting talent is powered by a passion for storytelling that shines through each of the countless character roles and commercials she has had the dedicated joy of lending her voice to. It would be her honored pleasure to do the same for you.



Bernadette Sullivan Voice Actor | Copyright © 2023 All Rights Reserved